50 pair Indoor Distribution Box
Description:
Part No.: TLD065
Type: Indoor distribution box 50 pair
Material of Box: ABS plastic
Material of subrack: Stainless steel
Capacity: 50 pair
Size: 190*205*105mm
Features:
The connection boxes designed to be loaded with LSA Modules, the modules can be ordered separately or completed on request.

Inside subracks made of stainless steel.

The cover is secured by toolless screws. Supplied with 4 jumper rings and earth post.
Indoor Distribution Box
| | | |
| --- | --- | --- |
| Part No. | Capacity | Dimension |
| TLD064 | 30 pair | 180*170*75mm |
| TLD065 | 50 pair | 190*205*105mm |
| TLD066 | 100 pair | 275*205*105mm |
| TLD067 | 30 pair | 171*140*75mm |
| TLD068 | 50 pair | 209*209*75mm |
| TLD069 | 100 pair | 320*215*75mm |
Product Show: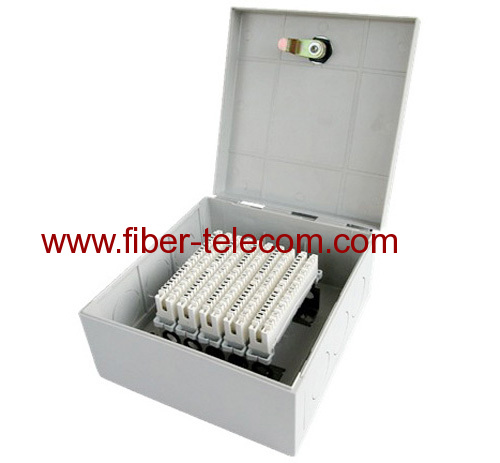 50 pair connection box