19" Rack Mounted fiber optic indoor terminal box
Details of TB03B1U Fiber Optic Terminal Box:
Model No.: TB03B1U
Dimension: 485x300x42.5mm
Weight: 3.45kgs include the accessories
Capacity: 1U for 24-fibers (It can be provided up to 6U -144 fibers.)
Material of patch panel: Cold Rolled Steel
Thickness: 1.2mm
Color: Black and Ivory white available.
Standard Accessories:
Cable trays, Adaptor panels (type on request), Splice sleeves, Cable ties, Insulation tape, Panel holder and Screws.
Specifications:
19" standard installation interface.
The box use good quality Cold Rolled Steel material,.
Surface with Electrostatic Spray.
Fiber core available in 8-144 fibers, trays available to add as per requested.
Available for bunchy and ribbon cables.
Available for LC, SC, FC, ST, MU, MTRJ and E2000 adaptors.
Enough space for operating.
Operation Conditions:
Working temperature: -25℃~ +55℃
Relative humidity: = 85% (30℃)
Atmosphere pressure: 70 ~ 106Kpa
Insulation resistance: ≥2x104MΩ / 500VDC
LOGO printed is acceptable.
Type

TB03A

TB03B

TB03C

TB03D

Fiber trays

6 fiber / 12 fiber / 24 fiber

Working temperature

-25℃~ +55℃

Dimension(mm)

485x300x1U/2U

485x300x1U/2U

482x290x1U

482x290x1U

Max capacity(core)

96

96

48

48

Weight(kg)

3.45-5kg

3.45-5 kg

3.45 kg

3.45kg
Packing:1 piece/inner box
Customer's brand or LOGO available to stick on the box.
Or customed box available.
19" ODF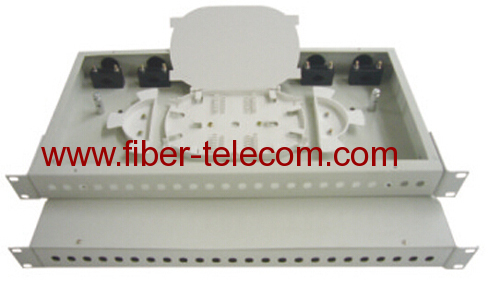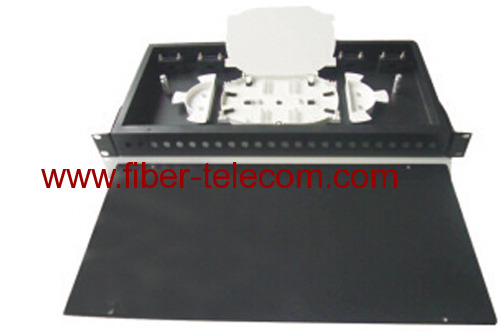 19" fiber optic patch panel