SC/APC Variable Fiber Ooptic Attenuator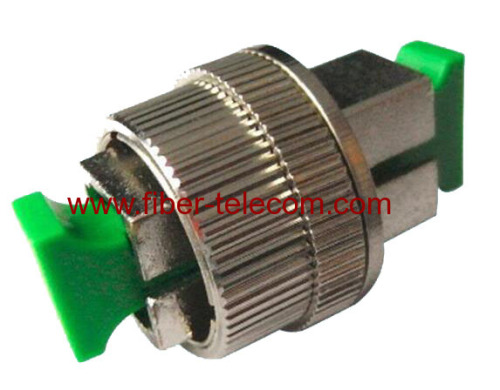 Adjustable fiber optic attenuator also called variable fiber optic attenuator, usually is inline type, the appearance like fiber optic patch cord; it is with an adjustable component in the middle of the device to change the attenuation level to a certain figure. There are also handheld variable fiber optic attenuators; they are used as test equipment, and we have the inline fiber optic attenuators.
Fiber optic attenuators are used in the fiber optic communications to reduce the optical fiber power at a certain level, the most commonly used type is female to male plug type fiber optic attenuator, it has the optical fiber connector at one side and the other side is a female type fiber optic adapter, fiber optic attenuator name is based on the connector type and the attenuation level. FC 5dB fiber optic attenuator means this attenuator uses FC fiber optic connector and it can reduce the optical fiber power level by 5dB. Commonly used attenuation range is from 1dB to 20dB.
Parameters:
High performance unit
Stable attenuation values
Customized to your volume requirements
Environmental stable
Applications:
Fiber in The Loop. (FITL)
Passive Optical Networks
Fiber to the Home. (FTTH)
Test equipments
LANs
CATV
Video distribution
Specifications:

Operating Wavelength: SM: 1200~1600nm, 1310nm, 1550nm, 1310/1550nm; MM: 850nm, 1300nm
Attenuation Value: 1~30dB
Type: SC
Return Loss: PC ≥50dB; UPC ≥55dB; APC≥ 65dB
Attenuation Accuracy: 1~10dB ≤ ± 0.5dB; 11~20dB ≤ ± 1.0dB; 21~30dB ≤ ± 2.0dB;
Maximum Optical Input Power: 200mW
Operating Temperature: -40℃ ~ + 75℃
Storage Temperature: -40℃ ~ + 75℃
PC: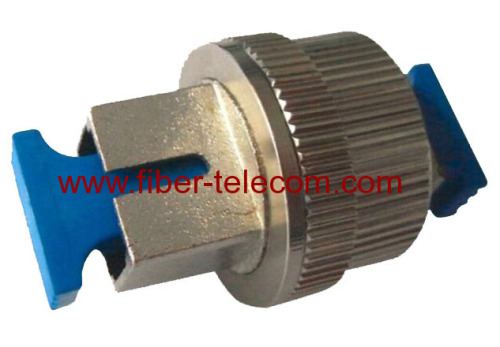 SC/APC Variable Fiber Ooptic Attenuator